The Certified Environmental Practitioner (CEnvP) Scheme aims to ensure that talented, skilled and ethical environmental professionals are given due recognition in line with their professional counterparts from engineering, accounting, planning and architecture.
Certification provides a greater level of assurance to the community, employers, clients and professional associates of the credentials and peer recognition of an environmental professional. By certifying practitioners that meet high standards of professionalism and ethical conduct, the Scheme assists in improving environmental practice and environmental outcomes.

The CEnvP Scheme was established in 2004 as an initiative of the Environment Institute of Australia and New Zealand (EIANZ). It is Australasia's first certification scheme for general environmental practice, and one of the first in the world. The development of CEnvP was supported by the Australian Government Department of the Environment and Heritage.
In 2010 CEnvP launched two specialist certification categories in Ecology and Impact Assessment.

There are currently 488 CEnvPs across Australia and New Zealand.

Find out more about certification requirements and the certification process here.
Already Certified as a CEnvP? Click here for information about adding Environmental Impact Assessment and/or Ecology Specialist Certifications to your current status..
Department of Defense Panel tender encourages Certification

2013-10-24 : The Australian Department of Defense is highlighting certification as a response criteria in current EoI tender documentation. Categories of experience include "Professional body recognition or Certification". It's great to see a government department being proactive in this area.



Your Pathway to Skilled and Ethical Environmental Practice and Certification
2013-09-26


: The EIANZ is planning to launch EIANZ STEPS in Melbourne at its Conference in October with a view to accepting participant registrations in 2014.

This is an exciting initiative for the Institute which will enhance the early career training for environmental professionals and assist practitioners in becoming certified under the CEnvP scheme.

EIANZ STEPS will enhance the understanding of the core values and attributes that an environmental practitioner requires (e.g. an understanding of environmental ethics) and provide participants with practically based skills development.

In March this year all EIANZ members were asked to take part in a survey to give feedback on the overall shape and content of the Program. The ideas and suggestions you provided have been used to build the Program, particularly further developing the 7 core proficiencies and associated attainment indicators.



To look at the progress that has been made on the Program and to provide feedback please go to: http://www.eianzsteps.org.




First woman wins Environmental Practitioner of the Year award
2012-11-07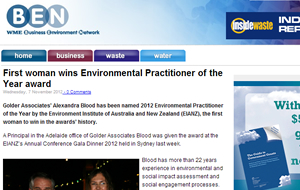 : IN THE MEDIA || WME Business Environment Network || Golder Associates' Alexandra Blood has been named 2012 Environmental Practitioner of the Year by the Environment Institute of Australia and New Zealand (EIANZ), the first woman to win in the awards' history.







Adelaide scientist Alexandra Blood scores win for environment, women and SA
2012-11-13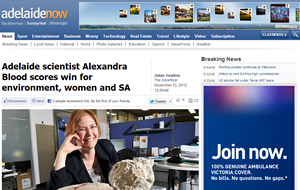 : IN THE MEDIA || ADELAIDE NOW || ADELAIDE environmental scientist Alexandra Blood has become the first woman, and the first South Australian, to win a prestigious environmental industry award.







Supporting the Development of Early Career Environment Professionals
2012-11-13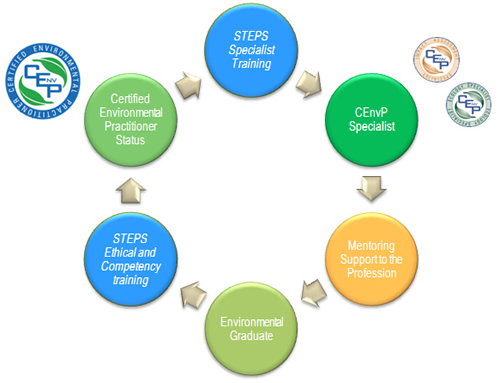 : Staged Training for Environmental Professionals (STEPS Program)

The EIANZ is introducing an initiative that will support and develop people through their environment career so they can become highly talented, skilled and ethical practitioners, recognised for the quality and professionalism of their work.

For more information please visit www.CEnvP.org/steps or to register an expression of interest contact Nicole Brown, STEPS Program Development Coordinator, on 03 9001 6934 (Australia) or 03 741 3102 (New Zealand) nicole@cenvp.org.




Phoning us from New Zealand?

2012-02-02 : We are pleased to announce our new Christchurch number 03 741 3102 (11am-7pm Wed-Fri).




Recognition by New Zealand National Environmental Standard (NES)
2011-12-21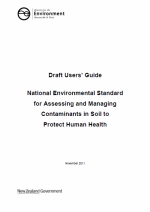 : The New Zealand National Environmental Standard (NES) for contaminated land has identified CEnvP as one method for assessing a suitably qualified and experienced practitioner.

Draft Users' Guide: National Environmental Standard for Assessing and Managing Contaminants in Soil to Protect Human Health as follows:
"One method for assessing whether someone is a 'suitably qualified and experienced practitioner' is to refer to existing professional bodies that currently certify New Zealand based environmental professionals. The requirement for being "suitably qualified and experienced" would apply to those members with demonstrated contaminated land experience. Examples of such professional bodies are:
• The Institution of Professional Engineers New Zealand (IPENZ) – see www.ipenz.org.nz
• The Certified Environmental Practitioner (CEnvP) scheme run by the Environment Institute of Australia and New Zealand (EIANZ) – see www.cenvp.org."


Geelong Scientist Named Environmental Practitioner of the Year 2011
2011-10-04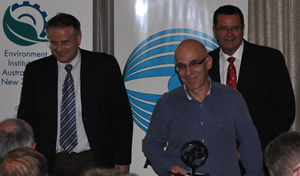 : Environmental and sustainability consultant Simon Leverton has been named the "Environmental Practitioner of the Year" at the Environment Institute of Australia and New Zealand's (EIANZ) Annual Conference Gala Dinner 2011 held on Queensland's Sunshine Coast last week.
Nigel Murphy, Chair of the Certified Environmental Practitioner Scheme (CEnvP) Board said "Simon is an outstanding environmental practitioner who has worked for government and the private sector. His work currently assists private sector and government clients meet regulatory compliance, strive for best practice and implement resourc...




Renewed Recognition for CEnvP by Australian Govt
2011-08-25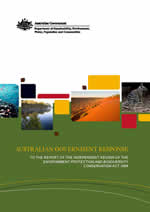 : The Australian Government has published its response to the Report of the Independent Review of the Environment Protection & Biodiversity Conservation Act 1999.

The Review put forward 71 recommendations, one of which was to develop a national Code of Conduct for environmental consultants, and create a unit to enforce good environmental practice. The Government Response was as follows:

"The government recognises that environmental industry-based certification schemes and voluntary codes already operate in Australia. An example of an industry-based certification scheme is the Certified Environmental Practitioner Program, which is an initiative of the Environment Institute of Australia and New Zealand, a professional body of environmental practitioners in Australasia. This program assesses environmental professionals in competency criteria of training, experience, professional conduct and ethical behaviour, and provides industry-wide accreditation."
Australian Government Department of Sustainability, Environment, Water, Population and Communities, "Australian Government Response to the Report of the Independent Review of the Environment Protection and Biodiversity Conservation Act 1999", Commonwealth of Australia, 2011. http://www.environment.gov.au/epbc/
Queensland Dept of Public Works recognises CEnvPs for prequalification
2011-05-01
: Queensland Government Department of Public Works recognises Certified Environmental Practitioners in its prequalification system for building industry consultants. For more details, download Attachment 2 of the application guide.










New EIANZ Code of Ethics to be adopted in September
2011-06-30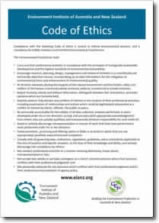 : The Board of the Certified Environmental Practitioner Scheme seek your feedback.
A working group has recently completed a review of the EIANZs Code of Ethics & Professional Conduct. The latest revision is attached for your perusal. NZ Code of Ethics Draft (v3) | Working Group Responses to Feedback on v1 and v2 | Proposed Posters of the CodesThe document has been expanded to include a Code of Professional Conduct, principles and guidelines. Version 3 is also available for download at www.eianz.org. The EIANZ and CEnvP Board hope to adopt the final version at the 2011 EIANZ AGM in September.
In order to ensure that good environmental outcomes are achieved, it is essential that the work of environmental practitioners is governed by good practice and the highest ethical policies and standards.
In essence, the Code of Professional Conduct addresses standards of behaviour that meet general community expectations of 'professionalism', and the Code of Ethics addresses moral considerations based on the shared values of the environment profession. A high standard of professional and ethical practice requires both perspectives.
The Code is a voluntary industry code applicable to professional environmental practitioners and was originally adopted by the Council of the Institute in 1989 and ratified by members of the Institute in a General Meeting in the same year.
All members of the Institute and CEnvPs must conform to the letter and spirit of the Code and all other environmental practitioners are encouraged to adopt the Code in their work.
Your comments and feedback will form the basis of the CEnvP Board's response to the draft code. Please send your feedback to info@cenvp.org by Friday 8th July 2011. EIANZ members are welcome to forward their feedback to their Division or Chapter representative directly.

Dec 2011 Update: New Code of Ethics is due to be put to a referendum of EIANZ members shortly, before implementation soon after. We will keep you informed.


EIANZ Meets Government Advisors

2011-02-16 : The Vice President of the Environment Institute of Australia and New Zealand (EIANZ) met with key federal politicians this week to discuss climate change and Federal and State environmental legislation, policy and practice.

Proposals raised during the meeting included ensuring only Certified Environmental Practitioners be eligible to prepare impact statements or provide services for Environment Protection and Biodiversity Conservation Act purposes.

Please view the EIANZ news for further details.