In 2007, The EIANZ and CEnvP Scheme launched the inaugural Merit and Service awards to recognise outstanding service and contributions to environmental practice. These awards recognise the legacy that such achievement provides to the environment profession.

We encourage those who know of practitioners making such contributions to complete a nomination form so that these people are given due recognition by the community and their peers.
2012 - Alexandra Blood
2011 - Simon Leverton
2010 - John Stanisic
2009 - Mark O'Brien
2008 - Dr Adam Smith
2007 - Hugh Lavery
The Award
The Certified Environmental Practitioner of the Year Award recognises outstanding contributions by CEnvPs to environmental practice. Only one person is awarded annually, receiving with the award a sustainability prize with value in excess of $1000.
How to Make a Nomination
T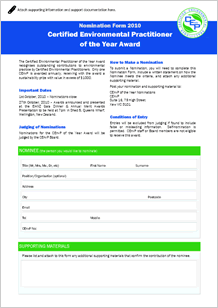 o submit a Nomination, you will need to complete the PDF Nomination Form, or submit an Electronic Nomination through our website below. You will need to provide a statement on how the Nominee meets the criteria, and attach any additional supporting material.
Conditions of Entry
Entries will be excluded from judging if found to include false or misleading information. Self-nomination is permitted.
Judging of Nominations
Nominations for the CEnvP of the Year Award will be judged by the CEnvP Board.
For more information, please direct enquiries to info@cenvp.org.