The Certified Environmental Practitioner Scheme is now in itsninth year and was an initiative of the EIANZ (Environment Institute of Australia and New Zealand).

The Scheme is designed to divide the increasing number of professionals in the environment sector. Some incompetent and unethical behaviour is undermining the credibility of the profession and it can be difficult to define a division between self-proclaimed experts and proficient ones. The community is right to demand greater environmental accountability from industry and government.

Certification versus Accreditation

There is an important difference between certification and accreditation.

Certification is the formal way by which the education, training and experience of practitioners is recognised through the granting of a certificate. Candidates are generally approved for certification when they meet the standards of a profession.

Accreditation is the process applied by accrediting bodies to determine and recognize whether an educational course, program or institution has met pre-determined training criteria.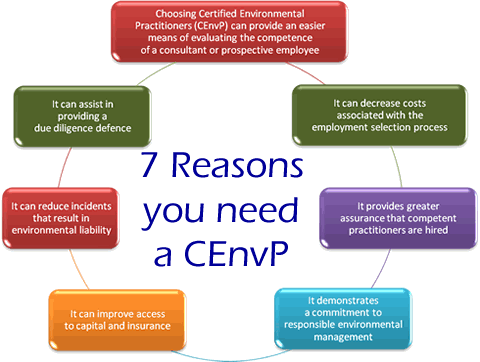 Certified Environmental Professionals
A Certified Environmental Practitioner ('CEnvP') is a dedicated professional who has demonstrated their environmental professionalism beyond the standard requirements of education, and has been judged on their professional merits and experience by fellow senior level environmental practitioners.
CEnvPs are drawn from a variety of fields including environment, energy, water, chemicals, air quality, sustainability and recycling, to name a few, and may include positions such as management on all levels, planners, lawyers, engineers, scientists, coordinators and field officers.
Central to all CEnvPs is the EIANZ Code of Ethics which clearly outlines their responsibilities to clients, employers, the community and the environment itself.
After becoming Certified, all CEnvPs must continue to participate in regular environmental courses, seminars and/or events to keep afresh with new developments and research in the industry.
"Environmental Practitioners holding CEnvP status defines a standard of excellence in environmental practice."
All CEnvPs must exceed the minimum criteria below:
an environment-related degree;
five years of relevant environmental experience over the past ten years;
three referees prepared to vouch for your skills, performance and professional conduct;
a signed statement of ethical conduct;
commitment to a miniumum over two years of 50 hours of continued professional development; and
additional supporting evidence of claim including at least two Referee Reports.
Note, there are additional requirements for Ecology and Impact Assessment specialist certifications. Please refer to the Relevant Guidance notes for each.
Registry of all current CEnvPs
A directory of ALL current CEnvPs is available through the 'CEnvP Directory' dropdown list above. By being in the public domain it provides additional assurance that anyone who states that they are certified as a CEnvP professional really is one.
Certification is renewed each calendar year, and CPD logs are required every second year.
Feel free to contact us if you have any queries.