Adam Smith
CEnvP


Cert No. 0110
14 Cleveland Tce
North Ward
QLD 4810
Tel: 07 4724 5047
Fax:

Environmental Impact Assessment
Strategic Environmental Assessment
Environmental Policy and Leadership

Location of Work Undertaken:
QLD

Date Certified: Dec 2005
Status: Valid to Dec 2013
2008 CEnvP of the Year
Professional Profile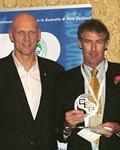 I am very proud to have been a CEnvP since 2005.

In 2008 I was awarded CEnvP of the Year by the Minister for the Environment as a result of my efforts to promote the benefits of the program within the Great Barrier Reef Marine Park Authority and throughout north Queensland.

My academic training has been in science and management. I completed a PhD at UNSW which investigated the impacts of sewage outfalls on fish populations. I completed an MBA at UQ in 2003. In 2008-9, I was selected as a member of Course 15 of the Australian Rural Leadership Program and sponsored by the Fisheries Research and Development Corporation. This has been a fantastic opportunity to learn more about the issues that concern our community and to share my knowledge about environmental sustainability and management.

I have worked as a scientific researcher, environmental consultant, manager and Director for a range of organizations; primarily in NSW and Qld. My current role is Director, Environmental Assessment and Management at the Great Barrier Reef Marine Park Authority. The vision of my team at GBRMPA is \"The best environmental management is based on great leadership, innovative systems, effective decisions and developing strong partnerships". More detail on GBRMPA can be found at www.gbrmpa.gov.au

I am a Fellow and strong supporter of EIANZ and have been president of FNQ, Councillor and member of various committees (Climate Change, Student, Conference) and a regular presenter at conferences.