Azain Raban
CEnvP


Cert No. 0411


VIC
Tel:
Fax:
Email Azain Raban
Emission Reduction Project Design & Development
Carbon Projects Planning and Strategic Advice
Environmental Compliance & Sustainability

Location of Work Undertaken:
All Australia & New Zealand

Date Certified: Feb 2011
Status: Valid to Dec 2012
Professional Profile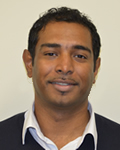 Azain Raban is an environmental and climate change professional with ten years of experience providing advice and services in the areas of climate change, environmental compliance and sustainability. He holds a Masters in Environment from the University of Melbourne.

Until recently, Azain was employed at Earth Systems where he spent over five years developing the Carbon Services Portfolio and initiated numerous projects in the Asia-Pacific region (including Fiji, Lao PDR, Papua New Guinea and Sri Lanka) and southern Africa. Prior to this, Azain worked for over 3 years at IUCN - The World Conservation Union in Asia focusing on multilateral environmental agreements and climate change policy development.

Azain provides strategic advice to corporate and government sector clients to implement sustainability and greenhouse gas emission reduction projects especially by linking activities to the global carbon market. To date, Azain has facilitated the forward sale of over 500,000 carbon credits in the international carbon market.

Areas of expertise include environmental policy and regulatory compliance, sustainability strategies, carbon pricing / risk management, carbon project design and development, including Carbon Farming Initiative (CFI) projects, greenhouse gas emissions management and monitoring, Environmental Management Systems (EMS), stakeholder engagement, business development and client liaison.