Dear CEnvPs,

The CEnvP Scheme continues to make steady progress! To date, there are 122 Certified Environmental Practitioners from 142 applicants across 7 Australian states and New Zealand, with more expected as this intake comes to a close. A key to the Schemeís long term success is raising the awareness of the Scheme throughout industry and government. We have been actively undertaking workshops and presentations to help increase awareness and interest in the Scheme. Further attention has come through several articles published about professional development and certification in magazine articles throughout the year. CEnvP was also represented at ENVIRO06 in Melbourne in May and will be featured at the EIANZ Conference in Adelaide in September.

With the fourth intake we have made some revisions to the application process to improve the Assessment Panel process. Newly revised Assessment Panel Forms will be distributed to Panel Coordinators, with changes aimed at facilitating and clarifying the interview and recommendation process.

Within CEnvP, we have welcomed many new Assessment Panelists from our growing pool of new CEnvPs. The contribution of their time and energy to help support the Scheme and set the bar has been crucial to programís success. We also have to acknowledge our first CEnvP Registrar, Mark Nan Tie, who stepped down in December to take on the CEO role at EIANZ. His efforts in helping to establish and run the intakes in those early days are greatly appreciated. Wendy Stegman has been appointed as the Interim Registrar during the search for a permanent replacement.

The next six months will see the Scheme concentrating on not only raising awareness and continuous improvement, but also expanding our role and services, particularly with regard to establishing a pathway for certification. The Board invites expressions of interest from CEnvPs who feel that they may have time to contribute to this and other initiatives.

On behalf of the Certified Environmental Practitioner Board, I would like to extend a welcome to all of our new CEnvPs. I would also like to extend a sincere thank you to all those individuals who have contributed their time and expertise to the continued growth of the Scheme, including the Board, the Program Administrator and Interim Registrar, Wendy Stegman, and the Assessment Panels.

We look forward to a busy but rewarding year!

Yours sincerely,

Nigel Murphy, CEnvP
Chairperson, Certified Environmental Practitioner Scheme

CEnvP Working Groups – Expressions of Interest
After a successful initiation and the first three intakes, it is now time to consider additional ways in which the CEnvP Scheme can lead the way in setting the bar and providing resources for environmental practitioners. Feedback from CEnvPs and other interests has identified several needs and interests that the Scheme could ideally address.

One proposed working group will establish a Certified Environmental Practitioner In Training (CEnvPIT) branch to our Scheme. The need to identify and establish clear pathways for young practitioners to reach the standard professional level of knowledge, competence and ethical understanding is increasingly important as the demand for and responsibilities of environmental professionals increase. It is difficult enough for a young professional to find a job and establish themselves, but even more challenging to know what the expected level of competence is. An understanding of ethics as it applies to the environment industry can also be difficult to obtain for practitioners lacking significant experience and exposure to these situations. Ideally, a practitioner would have this understanding prior to finding themselves in such a situation. Schemes such as CEnvPIT, a mentoring program and CEnvP CPD events would be well positioned to facilitate the development of young practitioners.

To respond to these challenging and important initiatives, the Scheme is seeking Expressions of Interest from parties who would like to be involved in working groups. To submit Expressions of Interest or receive further information on CEnvP Working Groups, please contact Wendy Stegman, Program Administrator, info@cenvp.org.

International Trends in Certification


Certification of environmental practitioners appears to be not only an Australian and New Zealand trend, but a growing international trend.
"In the UK alone, over 2,000 practitioners achieved Chartered Environmentalist (CEnv) status for the Society for the Environment within its first 12 months. Canadian certification schemes managed by CECAB have also experienced strong support and growth, with over 500 Canadian Certified Environmental Practitioners (CCEP)." (WME Magazine, Feb. 2006)
According to CEnvP Chair, Nigel Murphy, "It is no coincidence that certification programs have developed at virtually the same time in Australia, New Zealand, Canada and the UK." (WME Magazine, Feb. 2006) A comparison between these programs further reveals striking similarities between set requirements for certification, including relevant qualifications, four or five years professional experience and references from respected peers.
"In Australia and New Zealand, senior practitioners who have already made a name for themselves are included in those taking up certification, not necessarily for reasons of professional gain as much as to support a system that promotes ethics, competence and continuing professional development across their industry." (WME Magazine, Feb. 2006)
Excerpts from 'Certification: fad or industry future?' published in WME Magazine, Feb. 2006. View the full article.
Minister awards first New Zealand CEnvPs
In New Zealand, the first seven CEnvPs were officially named Certified Environmental Practitioners by the Minister for the Environment, Mr David Benson-Pope, at a function in Christchurch on 9 March.
In making the presentations, Mr Benson-Pope noted the importance of the role of professionals in achieving good environmental outcomes. The Government was actively promoting the developmentof good practice, he said, through initiatives such as skill development for decision-makers working under the ResourceManagement Act. The role of environment professions was likely to increase as the Government adopted more of a whole-of-government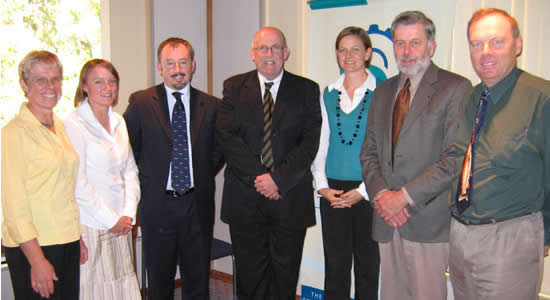 approach to environment issues.
The president of the New Zealand Chapter of EIANZ, Judith Roper-Lindsay, said it is encouraging to see more environment professionals electing to seek accreditation.
"Environmental practitioners are essentially an unregulated group in which people make a living from their professional advice, and so it is very important that we are able to self regulate through a professional body that provides guidance and encourages good professional practice."
"EIANZ was formed principally to encourage high standards of practice in all of the professional disciplines which have a bearing on environmental outcomes, including science, environmental management, regulatory services and so on.
"Accreditation is the key process by which people can be recognised for their expertise and good professional practice and it also provides the kind of recognition available to other professions, such as engineering, accounting, planning and architecture."
View EIANZ media release.
SA Division of EIANZ holds CEnvP Workshop
In mid-March, the South Australian Division of the Environment Institute of Australia and New Zealand took the opportunity to hold a CEnvP Workshop for environmental practitioners interested in the Scheme.
About 30 professionals, including members and non-members of EIANZ, attended this workshop hosted by Connell Wagner. Maria Furulis, EIANZ SA Division President, opened this half day event, which featured an overview of the CEnvP Scheme by Bill Haylock (EIANZ National President, CEnvP). CEnvP Board Member, Barbara Radcliffe (CEnvP) also presented a thorough overview of the application and assessment process.
Other key features of the workshop included a personal perspective from one of the first CEnvPs, Michelle Walker, an endorsement of the Scheme from the EPA delivered by Dr. Paul Vogel (SA EPA Chief Executive), and additional discussion related to career development and recruitment issues:
Attendees showed strong interest in the Scheme and were offered a discount on application fees by the CEnvP Scheme. The CEnvP Scheme would like to thank the EIANZ SA Division for their work in putting together this informative workshop.
Website Update
Since its launch in March 2005, the CEnvP website has quickly expanded to offer resources as well as information about CEnvP and the application process. With a steadily growing internet presence, CEnvPs and the Scheme now get more recognition online. In April alone, the website received over 25,500 from 890 visitors (viewing an average 352 pages each day) - the most popular pages visited being the homepage, Directory and application-related pages.
Most recent additions to the website have included a secure login area where CEnvPs can access exclusive resources such as the logo. The CEnvP Profiles were also launched in early 2006, giving CEnvPs a place to present more detailed information about their professional experience and education. This year, CEnvP will continue to offer a growing collection of resources to practitioners through its website, including information for young practitioners on working towards certification.
If you would like to see additional resources on the CEnvP Website or would like to submit an article for inclusion in CEnvPs in the News, please contact Wendy Stegman at info@cenvp.org. CPD events can also be submitted for inclusion in the CPD Events Calendar online.
Board Profile - Mr Alan Chenoweth, CEnvP

Alan Chenoweth holds qualifications in agricultural science, landscape architecture and planning, is a Fellow and past national President of the Australian Institute of Landscape Architecture, past President of the Australian Institute of Horticulture and a Fellow of Parks & Leisure Australia. He is also a Certified Environmental Practitioner and a Registered Landscape Architect, Vice President of Environment Institute of Australia and New Zealand (SEQ Division) and a member of the national Certification Board, and is a Churchill Fellow in social housing.
Alan's experience over 30 years includes environmental consultancy, tertiary education & research, and public service positions in conservation, housing and a Commission of Inquiry, covering the fields of impact assessment, botany, landscape design, parks and recreation, conservation and land development. He has led the Brisbane-based consultancy of Chenoweth Environmental Planning & Landscape Architecture Pty Ltd for the past 13 years.
For further information on all members of the CEnvP Board and staff, click here.
CEnvP Profile– Michelle Rhodes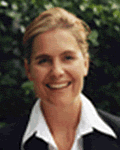 One of the first successful CEnvP applicants in Western Australia, Michelle Rhodes obtained certification in February 2005. Michelle is an Environmental Consultant who has worked in the environmental field since 1991. Michelle spent five years in the Kimberley region of Western Australia as a hydrologist and as a project manager working for the Argyle Diamond Mine, continueing her interest in this area through her PhD thesis in freshwater ecology.
In Perth, Michelle has operated as a consultant and is a Director of 360 Environmental Pty Ltd. She has worked in the mining, water and oil and gas industries, providing the overall project environmental management for various State-level projects on behalf of Clients. Projects on which Michelle has been involved include the Stirling Harvey Redevelopment Scheme, Burrup Peninsula Industrial Water Supply Project, Gorgon Gas Project and more recently the Perth Seawater Desalination Plant. Michelle is President of the Environmental Consultants Association (ECA) and a RABQSA Registered Auditor. Her qualifications include a Bachelor of Science (Env), Post Graduate Diploma in Environmental Impact Assessment, Masters of Environmental Management and in 2003, she completed her PhD Preliminary Program.
In the quest for improved environmental outcomes, Michelle was attracted to the CEnvP Scheme. 'It is important to protect that initial desire that tends to pave a career in environmental management; that drive to make the world a better place for future generations, and to contribute to protecting those resources which are important to all of us. A commitment to ethics or a Code of Conduct is the first step to achieving consistency and a level playing field for excellent environmental performance into the future. It is a team effort that will give us the best result, as we begin to understand the complexities of ecological relationships, alongside the competing need for the earth's limited resources.'
CEnvP Profiles are featured in the CEnvP Directory and on the home page. They can be up to 300 words in length and cover your current position, career path and qualifications. They should also briefly address 'Why you became a CEnvP' or 'What do you feel the CEnvP Scheme adds to the environment industry'. You are also welcome to submit a photo. Submit profiles to info@cenvp.org.
Certified Practitioners and Assessment Panels
Following the close of the fourth CEnvP intake on 2nd June, the next round of Assessment Panels will be convened to evaluate the new applicants. All CEnvPs are qualified and encouraged to make themselves available as potential Assessment Panelists. Participation in this important part of the application process not only provides valuable networking and learning opportunities, but also qualifies for CPD units (Category 4 of the CPD Log guidelines: 1 point per hour of interview time, and up to a maximum of 25 points per 2 year period). This is also an excellent opportunity to contribute to the Scheme. For further information on Assessment Panels, contact Ian Ackland, treasurer@cenvp.org.
Congratulations to the New CEnvPs
Please note that as registration is still open, not all accepted applicants appear on this list. Please view the Directory for the most up to date list.
| | | |
| --- | --- | --- |
| Mark Arrow | NSW | Erosion & Sediment Control; Site Revegetation & Rehabilitation; Design of Agricultural Earthworks |
| Matthew Barrett | QLD | EMS Auditing; Water Quality Assessment; Environmental Sustainability |
| Pene Burns | NZ | Environmental Impact Assessment; Water Quality Assessment; Environmental Audits |
| Edward Clerk | WA | Environmental Auditing; Environmental Project Management; EMS |
| Andrew Costen | Qld | Coastal Processes; Dredging & Soil Disposal; Staff & Project Management |
| Graham Dart | Qld | Practical Flora & Fauna Surveys; Related Research; Water-Sensitive Urban Design |
| Rochelle Hardy | NZ | Environmental Management Systems for Business; Environmental Impact Assessment; Strategic Policy Analysis |
| John Haydon | Qld | Environmental Law; Assisted Dispute Resolution (ADR), including mediation & facilitation; ADR Policy Development & Implementation |
| William Haylock | QLD | Environmental Assessment & Licensing; Environmental Management Development; Environmenl Training |
| Tony Hill | VIC | Contaminated Land & Groundwater Assessment & Remediation; Environmental Auditing & Due Diligence Assessments; Project Management |
| Philip Koloi | QLD | Marine Protected Area Impact Assessment; Marine Species Conservation - Traditional Use; Marine Works - Environmental Supervision |
| Kerry Laszig | WA | Contaminated Sites Management; Environmental Regulation |
| Shaun Lewis | NZ | Environmental Risk Management; Environmental Reporting; Cleaner Production |
| Peter MacTaggart | Qld | EMS; Auditing; Training |
| Margaret Mazur | VIC | Groundwater Modelling; Site Assessment & Remediation; Risk Assessment |
| Bruce Penman | QLD | Project Approvals; Impact Assessment; Stakeholder Consultation |
| Robert Penter | NZ | Environmental Auditing / Due Dilligence; EIA / AEE and Environmental Approvals; Project Management |
| Damon Scoffern | VIC | Soil & Groundwater Investigation & Remediation |
| Lana Shoesmith | QLD | EMS Development, Implementation, Improvement; Environmental Auditing; Environmental Training |
| Adam Smith | QLD | Environmental Impact Assessment; Strategic Environmental Assessment; Environmental Policy and Leadership |
| Andrew Smith | NSW | Wildlife & Ecological Services; Threatened Species Conservation & Management; Ecologically Sustainable Forest Management |
| Ian Spellerberg | NZ | Nature Conservation; Ecology Monitoring; Environmental Sustainability |
| Roland Tan | Vic | Environmental Health & Safety Quality Management Systems; Ergonomics; Integrated Management Systems (Audits & Training) |
| Brett Thomson | Qld | Environmental Engineering; Water Quality / Riparian Management; Environmental Management |
| Alexandra Tunnock | Qld | EMS; EMP; OHS |
| John Turville | NSW | Sustainability (Primary Industry & Agriculture); Environmental Impact Assessment; EMS / Auditing |
| Tenaha Michelle Wilson | WA | EMS; Environmental Training & Awareness; Environmental Site (mining) Management |
| Kevin Wood | VIC | Catchment, Wetland & Waterway Management; Water Quality & Stormwater Management; Environmental Planning & Policy Development |
| Jenny Yan | WA | Environmental Impact Assessment & Statutory Approvals; Compliance Reporting; Environmental Management Planning |
| Tatia Michelle Zubrinich | QLD | Project Management; Environmental Management; Environment Education |