AUSTRALIA'S LEADING ENVIRONMENTAL PRACTITIONER CALLS FOR GOVERNMENT LEADERSHIP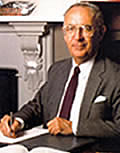 Hugh Lavery,
CEnvP of the Year
Dr Hugh Lavery is the inaugural winner of the Certified Environmental Practitioner (CEnvP) of the Year. His award was conferred at the 20th Anniversary Gala Dinner of the Environment Institute of Australia and New Zealand (EIANZ).

Currently in his 50th year of professional practice, Dr Lavery has been a pioneer in the environmental field.

Dr Lavery helped establish modern nature conservation with his work in Queensland back in the 1950s, and 20 years ago lead the way in advising corporate Australia on its management of the environment.

In accepting his award Dr Lavery called for Australia's next Government to make greater efforts to create a sustainable future for the country.

"I acknowledge the great strides that have been made over the last two decades, but believe there is still much to be done" Dr Lavery said.

Dr Lavery identified that Australia needs to take on a greater leadership role in developing strategies for reducing our ecological footprint. He cited examples of promoting renewable energy alternatives and minimizing waste within our society.

Dr Lavery said "the financing of Clean Technology is a growing trend that I whole-heartedly welcome. But it won't continue without the support of Australia's governments".

Dr Lavery's comments followed discussion at an EIANZ conference in Sydney. Speakers at the 'Third Wave in Environmental Practice' agreed that Australia's environment faces many immediate challenges including climate change, water shortages and increased coastal population pressures.

Institute President Bill Haylock opened the event by telling delegates that Australia's environment needs to feature heavily in the coming election. "For the first time in more than a decade the environment is rightly a prominent election issue", he said.

According to Mr Haylock "many of the environmental issues we face are global issues where Australia can and should show leadership.

"We need to set examples by supporting innovative and sustainable solutions. "If we don't our children will miss out on our natural wonders, like the Great Barrier Reef and many other environmental assets that we have taken for granted." Mr Haylock warned.

Mr Haylock closed the forum by calling for Australia to join many of its European counterparts and become a driver of international agreements that reduce global environmental impacts".

Australia's environmental practitioners would lend full support to a Government that demonstrated this sort of leadership" Mr Haylock said.