Mr Nicholas Graham-Higgs CEnvP
Cert No. 0064
NGH Environmental
PO Box 470
Bega
NSW
2550

Tel: 02 6494 7771
Fax: 02 6494 7773
Email Nicholas Graham-Higgs
Environmental Impact Assessment
Biodiversity Assessment
Environmental Management Systems

Location of work undertaken: NSW

Date Certified: Apr 2005
Status: Valid to Dec 2017
Professional Profile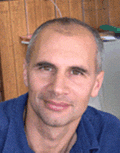 Nicholas Graham-Higgs is the Director, and Senior Consultant of nghenvironmental, an environmental planning and assessment consultancy with 12 core staff and offices in both Sydney and the Bega Valley (NSW Far South Coast). Nick took the opportunity of becoming a CEnvP in the first intake in February 2005.
Nick holds a Bachelor of Applied Science, with a major in Ecology, obtained in 1985. He has worked as an environmental planning consultant since 1992, specialising in Environmental Impact Assessment, Biodiversity Assessment and Environmental Management Systems. Nick's management of a wide range of assignments affecting diverse natural and modified environments, has given him a broad knowledge base in the area of environmental management and environmental impact assessment.
Nick's work demands an in-depth knowledge of current planning and environmental legislation coupled with a comprehensive understanding of development-related impacts. Nick has acquired his knowledge in this field over the last 18 years, during which he has worked with a number of land management organisations within and outside Australia.
Recently Nick has worked on a number of major projects, including environmental and biodiversity impact assessment and environmental management planning for a number of sustainable energy proposals, including four proposed windfarms in the Adaminaby, Goulburn and Yass areas, and a number of mini-hydro plants in the Snowy Mountains. In addition to this Nick has worked on projects involving development of road, power, telecommunications, recreational, and housing facilities and infrastructure for both private and government sectors. In his work he has always strived to meet the objectives of ecologically sustainable development.
Nick pursued certification under the CEnvP scheme as he strongly believes that it is critical that people working in the area of environmental management maintain high ethical standards and competency. The certification program provides a basis for this. The program will also continue to assist people associated with EIANZ to be leaders in the environmental field.