Late 2020, the NSW Department of Planning, Industry and Environment (the Department) released on exhibition a Rapid Assessment Framework (RAF), including a draft Registered Environmental Assessment Practitioner (REAP) Scheme guidance.
This REAP Guidance is now approved.
The RAF is a package of system improvements that increase the efficiency of major state project assessments, while also improving quality, engagement standards and customer service. View an introductory webinar to the DPIE Rapid Assessment Framework here.
What this means for Environmental Impact Statements of NSW Major Projects.
The RAF includes a system for recognising accredited professional schemes for environmental assessment practitioners, and an associated Registered Environmental Assessment Practitioner (REAP) guidance has been developed.
Once the relevant provisions commence, every EIS submitted to the Department will need to be accompanied by a declaration made by a REAP. This declaration includes statements relating to the compliance, completeness, accuracy and legibility of the EIS. In order to be able to make this declaration, a REAP should also ideally oversee or be involved in the development of the entire EIS document.
How to become a REAP?
The CEnvP Scheme (CEnvP) has been working closely with the Department during the development of the REAP Scheme, and has been recognised as an accredited REAP scheme.
This means that practitioners seeking accreditation as a REAP can achieve this via the CEnvP Impact Assessment (CEnvP-IA) certification, plus an additional REAP module.
Existing CEnvP-IAs only need to complete the specific REAP module. 
CEnvP conforms to the standard of ISO17024 for the General requirements for bodies operating certification of persons, which among its key requirements is that certification is available to anyone who meets specified criteria, not only those who belong to a particular institute or association.
To gain REAP status:
At application, either:
Complete the REAP specific module
Maintain specific required CPD, complete recertification every two years and pay annual renewal fees.
Once you are certified, what will you be referred to as?
CEnvP (Impact Assessment specialist) and NSW REAP.
You will also gain the new CEnvP IA and NSW REAP digital seal below.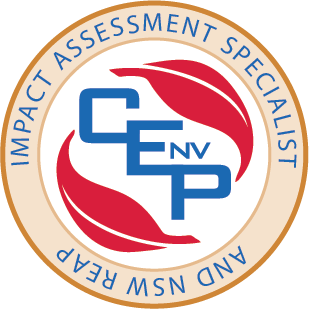 All newly Certified Practitioners will be added to the CEnvP Directory as a CEnvP-IA and NSW REAP. Existing practitioner's records will be updated to reflect their additional REAP accreditation.
Further information
DPIE has also prepared a Frequently Asked Questions document which provides some further information.
Earlier in 2021, CEnvP hosted a webinar in partnership with NSW DPIE, which presented details of the REAP and RAF, at that point.
This includes what this means for current practitioners and how to be prepared before the requirements commence in 2022. View the webinar below. 
REAP Scheme Information session